OASYS™                                Chemical Sanitisation
From softened water to point of use, Puretech's OASYS™ offers a true single source, multi-technology validated unit, for producing purified water.

OASYS™ water purification system – a chemically sanitised multi-technology unit that provides a single source solution for taking softened water to pharmaceutical grade pure water.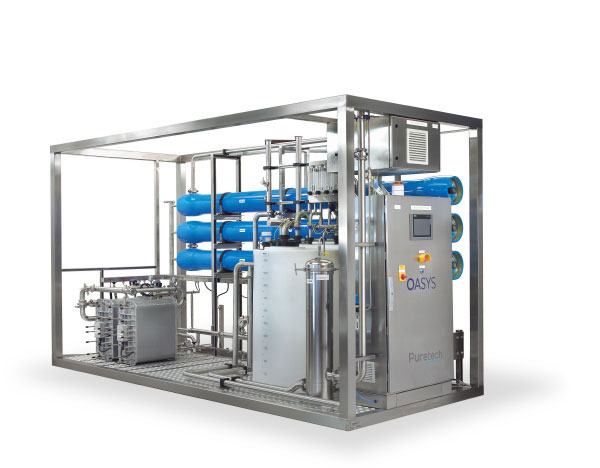 Puretech's innovative OASYS™ is a chemical sanitisation system that provides a single source solution for taking raw water to purified water complying with all relevant pharmacopeia standards.
The OASYS™ has been developed to complement GENESYS™. It is a chemically sanitised version of the GENESYS™ with a simpler GAMP 4 compliant control system. The unit can be validated up to USP and EP standards with a full FAT being carried out at our works.
Specification
Purified water to USP, EP and JP
PLC controlled with touch screen HMI
Flexible outputs from 100 to 10,000 l/hr
Condensed footprint with optimal accessibility
316L stainless steel pipework
GAMP compliant
Validation to regulatory and client standards
Minimises waste water
Designed for robust and safe operation
Flexible system integration, including, UV sanitisation, ultra filtration, TOC Monitor
Puretech engineered and installed a purified water to system at the AstraZeneca Research and Development Centre, Cambridge , taking raw water from the mains through purification using OASYS™ units. The purified water, which is stored in a 5000-litre tank, is distributed via a stainless-steel ring main to user points in the laboratories.