Argon recovery systems
The ArgonØ™ is a world first in point-of-use gas recovery, facilitating cost effective recycling of argon as well as other inert purge gas such as helium and xenon.
The ArgonØ™ offers savings that potentially show a return on investment in under three years and a substantial reduction in the environmental impact ingot production.

The ArgonØ ™ recycles gas in a closed loop from a limited number of process tools, this gives the big advantage over potential plant wide installations of easy, straightforward retrofit into existing wafer manufacturing plants as well as allowing a phased installation, in line with the process tools, into new "ground up" facilities.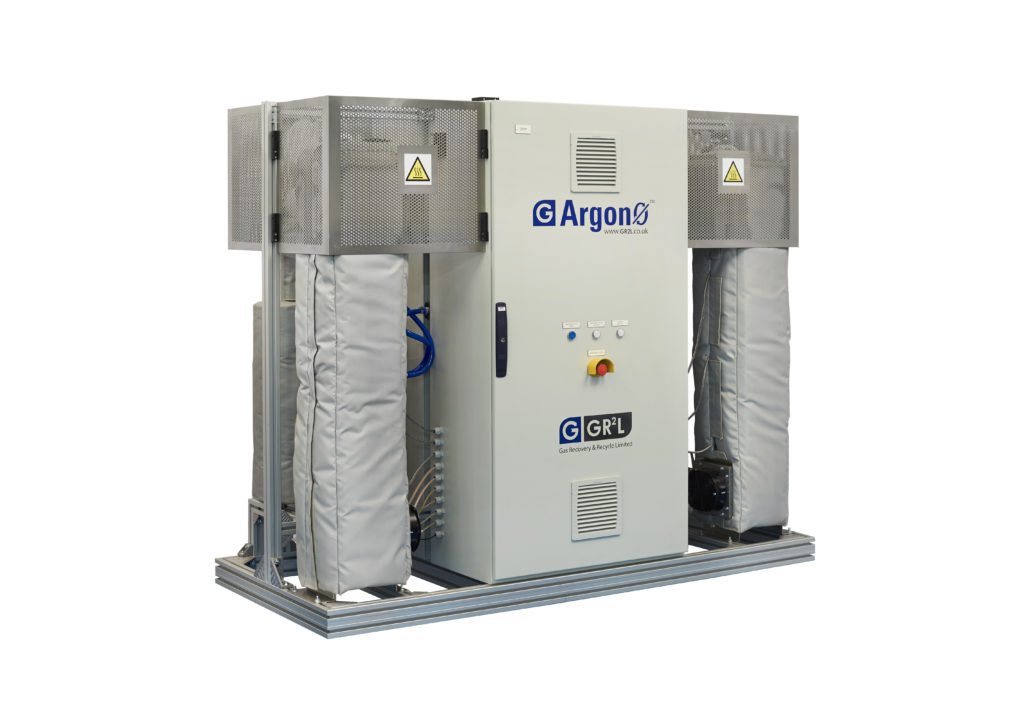 The ArgonØ ™ recycles >95% of the furnace exhaust gas back to the process at purity levels that exceed the Semi PV6-1110  requirements, removing 1,000s of ppm of contamination in the process.
Application
The ArgonØ™ is designed to recover, purify and recycle purge gas from the vacuum furnaces, both CZ and DS, used to grow silicon ingots for onward fabrication into crystalline solar cells. The system uniquely copes  with both oil sealed and dry vacuum pumps, used to evacuate the furnaces,  and utilises technology jointly developed with Cambridge University that enables recycle rates of at least 95%. Recycled argon gas purity exceeds SEMI PV6-1110.
The system is Point of Use and can connect to multiple vacuum furnaces, subject to a maximum recycle flow limit of approximately 15 Nm3/hr, enabling straightforward retrofit to current vacuum furnaces along with a phased installation, in line with the installation of the vacuum furnaces, in new establishments.
With a Return on Investment (ROI) of 2-3 years the ArgonØ™ represents excellent value for money and where helium is also recycled the ROI improves further to typically 6-12 months. In addition the ArgonØ™ reduces the CO2 footprint of a typical vacuum furnace by 3-5 tonnes per annum along with improvements to the security of supply.
Technology
At the heart of the ArgonØ™ is a patented chemical looping combustion (CLC) reactor that utilises a solid state oxygen carrier to combust the process contaminants along with oil vapour etc., introduced from the vacuum pumps, to CO2 and water; these are subsequently removed via molecular sieve traps.
The solid state oxygen carrier ensures the recycled gas is oxygen free – measured levels are better than 50 ppb a factor of 40 better than the SEMI specification. When exhausted the oxygen carrier is regenerated using atmospheric air in a separate step and then purged with argon to remove residual air prior to entering a standby mode.
The molecular sieve columns are regenerated via a combination of heating and purging; overall the system operates on a 8-12 hour cycle dependant on the levels of contamination in the exhaust gas. The ArgonØ™ has a duty standby set up to ensure continuous operation.
In 2015, after extensive trials, where the GR2L ArgonØ™ argon recycle system demonstrated better than 95% recycle rate, Gigastorage Corporation, Taiwan, became the first solar customer to install an ArgonØ™. Having considered both the centralised and point of use approaches Sam Huang, Vice General Manager, said,
I have to say that the  ArgonØ™ is a more flexible and compact system compared with a centralised system concept" adding "the installation process was straightforward and resulted in minimal disruption to our production schedules.
Since 2015 ArgonØ™ systems have been supplied to many other ingot manufacturers.