GENESYS™                      Thermal Sanitisation
From softened water to point of use, Puretech's GENESYS™ offers a true single source, multi-technology validated unit, for producing purified water.

GENESYS™ is the ultimate water purification system – a thermal sanitisation multi-technology unit that provides a single source solution for taking softened water to pharmaceutical grade pure water.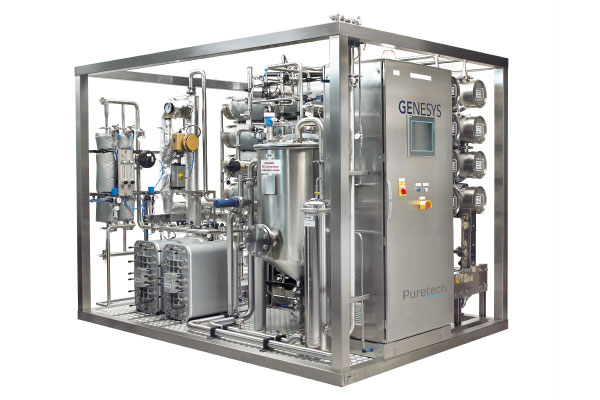 Puretech GENESYS™ purified water systems are designed and constructed to produce purified and highly purified water in full compliance with cGMP guidelines as per FDA and EMEA, EP, JP and USP requirements. Engineering and manufacturing practices follow ISO 9001 procedures, ASME BPE criteria, GAMP guidelines, etc. Design and construction meets the most stringent Regulations and Codes from Europe, USA and others concerning Safety and Pressure Vessels. To ensure the equipment meets your requirements, we work in partnership with you, a dedicated team follows your order as a unique project. We develop specific Quality Plans (DQ, IQ and OQ) and undertake factory acceptance testing (FAT) to give assurance of performance and quality.
Purified and highly purified water applications
Purified water is used as an excipient in the preparation of non sterile products and as a starting material in the preparation of water for injection and pure steam. It's also used for rinsing purposes and in the preparation of cleaning solutions. Highly Purified water is used in the preparation of medicinal products where bacterial endotoxins need to be controlled, except where water for injection is required.
Operating principle 
The pretreated (softened) water is passed through a filter housing (typically 5 µm) and analysed for free Chlorine prior to entering the RO feed tank. The filtered water then enters the stainless storage tank, if the tank is full the softened water is returned to the raw water tank to ensure constant movement to minimise the risk of bacterial proliferation. The softened water is then pumped at high pressure using a stainless steel multistage centrifugal pump, through the RO membranes. The RO permeate is then fed through a membrane degasser to remove dissolved Carbon Dioxide, followed by a CEDI unit in order to remove ionic contaminants. The purified water is then passed through a UV irradiator unit before being fed to the storage vessel.
Control system
The GENESYS™ utilises the latest technology with touch screen HMI to allow ease of operation and monitoring. The GENESYS™ allows control and monitoring from a single interface with data logging facilities and links to user systems eg, BMS, DCS or SCADA. The GENESYS™ control system has the flexibility to operate complete turnkey packages allowing customers to reduce costs and simplify operation using a single access interface for pre-treatment, purification, storage and distribution. The GENESYS™ control system ensures safe operation, protecting the system and the operator, giving you confidence and peace of mind.
Trusted technology, safely implemented
The GENESYS™ Purified Water System is designed to generate Purified water in accordance with the International Pharmacopoeial specifications for Purified or Highly Purified water. The system has been designed to allow automatic hot water sanitisation of the complete unit including the pipework feeding the Purified water into the storage vessel. The GENESYS™ units utilizes the following major components within a fully protected skid so that the system can be kept clean and prevent any injuries to operators during sanitisation.
Specification
Purified water to USP, EP and JP
Automatic hot water sanitisation
Flexible outputs from 100 to 10,000 l/hr
Condensed footprint with optimal accessibility
Flexible installation options
Constructed from 316L stainless steel, internal surface finish 0.5 Ra.
GAMP and 21 CFR part 11 compliant
100% weld inspection
Validation to regulatory and client standards
Minimises waste water
Flexible system integration with proven technological options
Designed for robust and safe operation
Key components
Softened water tank
This 316L stainless vessel is used as a reservoir for sanitisation and can be used for the automatic CIP cycles.
Reverse osmosis
RO technology involves using a variable speed pressure pump to force a portion of the feed water through semi-permeable membranes. The permeate flow is kept constant, independent of variables such as the feed water temperature.
Continuous electro deionisation
The water passing through the CEDI is deionised to Purified Water using an electric current. The concentrate water exiting the CEDI unit is reused and mixed with the RO feed water.
Ultraviolet irradiation/ultrafiltration
The pure water exiting the CEDI passes to a UV unit or a 6,000 NMWL Ultrafilter to give added security in achieving the Purified and Highly Purified water specifications.
Material specifications
• Softened water tank 316L Stainless Steel vessel
• Reverse osmosis 316L Stainless Steel
• CEDI LX FDA approved materials
• Pipework 316L Stainless Steel, orbital welded, Internal surface finish <0.5 μm Ra
• Frame 304 Stainless Steel
• Control cabinet 304 Stainless Steel. Services: Electrical 380/415V; 3 Phase; 50Hz.
Feed requirements
Water
• General potable water free from organics, colloids and suspended matter: SDI<3
• Total hardness < 5 ppm as CaCO3
• Free chlorine < 0.05 ppm
• Iron < 0.1 ppm as Fe
• Temperature 5 – 30°C
• Pressure 2 – 6 bar
Electrical
380/415V; 3 Phase; 50Hz
Compressed Air
Oil free, instrument grade >6 bar
Puretech engineered and installed a purified water to system at the AstraZeneca Research and Development Centre, Cambridge , taking raw water from the mains through purification using OASYS units. The purified water, which is stored in a 5000-litre tank, is distributed via a stainless-steel ring main to user points in the laboratories.