Water for Injection
The GENESYS™ WFI utilising membrane technology to obtain Water for Injection.

From softened water to point of use, Puretech's GENESYS WFI™ offers a true single source for producing Water for Injection (WFI) in line with all worldwide Pharmacopoeial standards.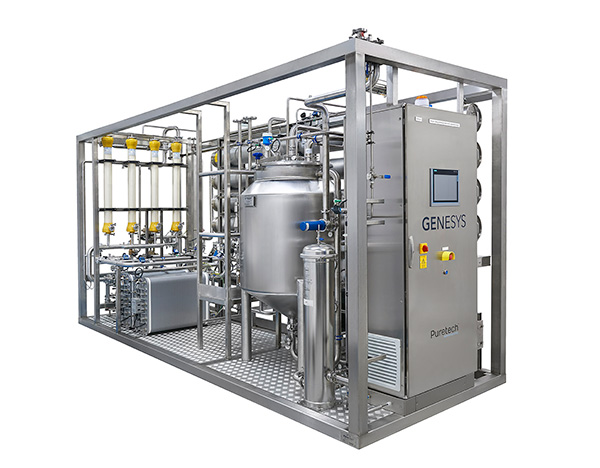 GENESYS™ WFI is our world leading Water for Injection (WFI) purification unit, used worldwide in the pharmaceutical, research and medical applications to facilitate the production of WFI complying with all relevant pharmacopeia standards.
Water for Injection (WFI) generated by GENESYS™ WFI is used in bulk in the preparation of medicines for injectable administration and for applications where the water is used as a vehicle or to dissolve or dilute substances or preparations for injectable administration before use. It can also be integrated with steam generators provide pure steam.
Key components
Softened water tank
This 316L stainless vessel is used as a reservoir for sanitisation and can be used for the automatic CIP cycles.
Reverse osmosis
RO technology involves using a variable speed pressure pump to force a portion of the feed water through semi-permeable membranes. The permeate flow is kept constant, independent of variables such as the feed water temperature.
Continuous electro deionisation
The water passing through the CEDI is deionised to Purified Water using an electric current. The concentrate water exiting the CEDI unit is reused and mixed with the RO feed water.
Ultraviolet irradiation/ultrafiltration
The pure water exiting the CEDI passes to a UV unit or a 6,000 NMWL Ultrafilter to give added security in achieving the Purified and Highly Purified water specifications.
Features
Purified water to USP, EP and JP
Automatic hot water sanitisation
Flexible outputs from 100 to 20,000 l/hr
Designed for simple upgrading or production rate
Provides constant monitoring for RO status and gives warning of requirement for cleaning
Constructed from 316L stainless steel, orbitally welded, internal surface finish 0.5 Ra. Designed to ASME BPE
Choice of sophisticated control systems with inbuilt data logging and paperless chart recorder
GAMP and 21 CFR part 11 compliant
100% weld inspection
Validation to regulatory and client standards
Minimises waste water
Flexible system integration with proven technologies
Remote monitoring capability
Designed for robust and safe operation
Puretech engineered and installed a purified water to system at the AstraZeneca Research and Development Centre, Cambridge , taking raw water from the mains through purification using OASYS™ units. The purified water, which is stored in a 5000-litre tank, is distributed via a stainless-steel ring main to user points in the laboratories.