CASE STUDY : ALBUMEDIX LTD
Pyrogen free water for the manufacture of vital pharmaceutical ingredients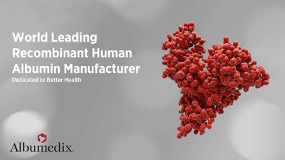 Project: Commercial Albumin Production Plant Capacity Expansion
Client: Albumedix Limited
Main Contractor: Scitech UK
Duration: May 2019 – November 2020
Puretech designed, manufactured, installed and commissioned a fully validated system for the generation and distribution of essential pyrogen free water to replace the existing legacy system at Albumedix's facility in Nottingham, UK.
The Client
Albumedix Limited is a UK based large-scale cGMP manufacturer of pharmaceutical ingredients and the only provider of USP-NF compliant Recombinant Human Albumin. Its products are vital to the manufacture and supply of pharmaceuticals, vaccines, diagnostics and medical devices globally.
In addition to being a producer of pharmaceutical ingredients in its own right, Albumedix is a single source of supply for many global producers and distributors of medicines, in almost all cases, where there is no viable or interchangeable substitute.
Background
The manufacture of Recombinant Human Albumin is a batch process. Due to increasing demand, Albumedix needed to increase their production capacity by reducing the batch manufacturing time. A major bottleneck to this ambition was the capacity of the Pure Water system, so a new water generation, storage and distribution system was required. To cope with the increased demand, the new system also needed to be capable of running continuously to minimise any downtime for maintenance.
Delivering a pyrogen free water system
The system Puretech designed and supplied comprises a 12,000-litre break tank, pre-treatment skid, including duplex softeners and Granular Activated Carbon Filters, two Genesys (RO/CEDI/UF) generation units, each capable of producing Water for Injection at a rate of 7,500 litres an hour, installed in parallel to provide continuity of supply, and a 15 m3 stainless steel storage tank with distribution skid. The distribution skid feeds two loops which serve the manufacturing facility, each loop operating at up to 45,000 litres/hr to supply the manufacturing process. The systems are sanitised using automatic Hot Water sanitisation sequences.
To conserve waste water from the generation system, an Oasys RO recovery system was included to increase the permeate conversion rate from the standard 75% at full capacity to nearly 92%, the water saved is recovered and returned to the raw water tank for re-use in the generation process.
Puretech received the order in May 2019 and carried out the FAT (factory acceptance test) at the company's engineering facility in Redhill, UK in December 2019. Commissioning was due in April 2020 but due to COVID-19, this was delayed to August 2020. Hand over and (socially distanced) training was completed in November 2020.
SCADA Integration
Albumedix wanted the distribution system to be controlled via their site SCADA system, so Puretech worked in conjunction with site control contractor, ASTEC Computing , supplying control panel hardware and producing the functional design specifications, for them to write the necessary software for the integration, and working as a team to commission and qualify the system together. The generation and pre-treatment system controls were produced by Puretech and these were networked to the Albumedix Data Historian package for archiving of system data.
Raw Water to point of use solution and unparalleled customer service
The delivery of the new Albumedix system, overseen by Scitech as the main contractor, was originally tendered as three packages: generation, storage & distribution skid and installation of the distribution loops. Puretech is one of the only companies worldwide that has in-house capabilities to deliver all three packages, providing Albumedix with a single specialist supplier for raw water to point of use. Puretech's successful delivery on previous projects working alongside Scitech and the ability to deliver the whole project were both contributory factors in winning the contract but so too was Albumedix' first-hand experience of the Puretech team's service capabilities and willingness to work collaboratively to help find effective solutions.
We are proud to have provided a large scale, effective, integrated system for producing pyrogen free water for Albumedix, which will help them to increase the positive impact their work has on the lives of millions of people throughout the world.