Critical oxygen system for Royal London coronavirus wards delivered in 21 days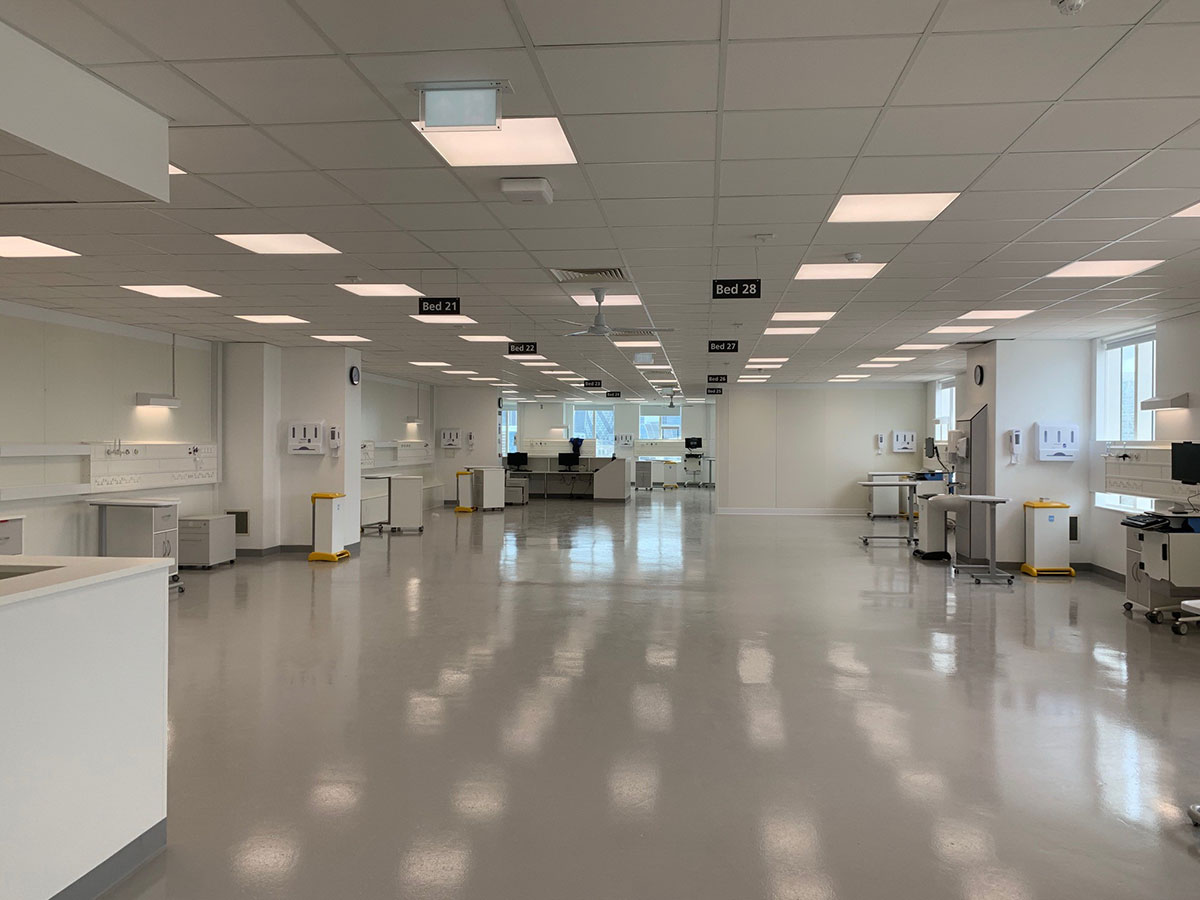 Project: Royal London Hospital Coronavirus Wards
Client: Barts Health Hospital Trust
Timing: April 2020
Value: £0.9M
Medical Gases worked around the clock to provide the essential oxygen delivery systems to two floors at Royal London, providing capacity for coronavirus patients to relieve the pressure on other hospital facilities and providing a lasting legacy of increased capacity.
Background
Barts Health hospital trust instructed Medical Gases to provide a system to supply essential Oxygen, Medical air 4 Bar and Medical Vacuum to the previously mothballed 14th and 15th floors at the Royal London Hospital serving 176 intensive care and high dependency beds. The project had to be delivered in three weeks.
The Challenge
Timing was the obvious initial challenge of the project, which necessitated condensing a project that involved over 6000 metres of pipework and 700 medical gas terminals, and would ordinarily take six months, into the three-week schedule.
Putting in the extra hours to deliver
Credit for the successful delivery of the project must go to the onsite team of thirty who worked twelve to fourteen-hour shifts during the contract to ensure its success, complying with the additional requirements of Covid-19 safe working. The team started on site on 7th April and fully completed, including commissioning, just over three weeks later on 1st May. Medical Gases staff on site and off, and the collective expertise built during the company's 37 years of designing and installing gas delivery systems, proved its value. A less skilled or motivated team could not have achieved the speed or quality of result that was demonstrated in completing this contract in such a short period.
Teamwork to overcome access issues
Access is often an issue on contracts in London. In this case the challenge was having one service lift between the basement and the 15th floor for the circa 250 people working there. Due to safe distancing, the lift could only be used by four people at a time so there was a challenge for the team getting to the floors but there was also a challenge in getting the necessary material up. Medical gas degreased copper tube comes in six metre lengths which would not fit in the lift. Cutting the pipework in half to move it up in the lift and then joining it again would be far too time consuming and create unnecessary jointing. Working as a team, forty men, working two on each landing, passed the pipework up the stairwell between the handrails in a procedure which took four and a half hours but undoubtedly saved time on the project and achieved a superior result.

Site access in lockdown
To ensure as few delays as possible in getting the people and resources required on site, everyone involved in the project was issued with a document to present to police etc. as required, identifying them as carrying out essential work.
Euston Council's relaxed parking restrictions and NCP reduced parking rates meant many of the onsite team did not have to travel by public transport. Medical Gases provided electric scooters to those still using over ground trains to get from station to site.
Fuelling the workers
Although there was no onsite canteen the hospital provided workers with picnics. Medical Gases is extremely grateful to everyone who worked with them to achieve what was required and was also touched by the support of the community. The curry house opposite the site – Sonargaon Restaurant, Whitechapel Road – which had stayed open with a take-away service, supplied the initial team of thirty with a curry free of charge.
Increased capacity now and for the future
The new floors at the Royal London have provided six critical care wards, which have enabled the space that was used for Covid-19 patients to be returned to its previous use, allowing routine services like elective surgery to restart.
"This facility allows our teams to separate Covid and non-Covid patients, and will help us encourage other patients who require treatment, but have not been able to attend hospital in recent weeks, to come back for essential surgery or care."
Jackie Sullivan, chief executive of the Royal London
Source: Evening Standard
"These new wards will be used for many years to come, both during this pandemic and to meet other health needs of our wider local population."
Alwen Williams, Barts Health group chief executive
Source: Evening Standard
Medical Gases delivered this significant project, and a concurrent project to provide essential oxygen at The Dragon's Heart Hospital, at a speed not previously thought possible, and with no compromise on quality. It is a testament to all those involved. We are immensely proud of all our staff and the 70 installation engineers, who have worked so hard to deliver, and showed their commitment in such challenging circumstances, and are grateful to the suppliers who went above and beyond to support them. Thank you all.